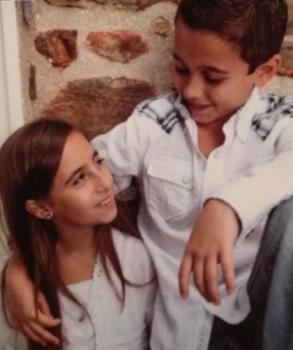 Hi ! This is Carmen & Jo-Jo ! We wanted to have our own soap line and Mom thought it was a great idea! So we picked out some really cool fragrances. When we have special soaps it actually makes us excited to wash up! Our soaps have the same special formula as our Mom's but we think we have even cooler fragrances ! We are so excited, look what else we have ... Matching Roll-on's We will be adding more so please check back often.
P.s. Don't forget to check our Bubble Baths
Remember, every 3 Soap bars purchased, you get one Free!
Page 1 of 1:
Monkee Farts!

Price: $4.95

Monkey's eat banana's, coconuts, pineapples, kiwi, oranges, and even apples.

Nanny's Favorite

Price: $4.95

Nanny said it's a beautiful fragrance because it has a Gardenia smell to it.


G I Jo-Jo

Price: $4.95

My GI Jo-Jo soap smells like the real peppermint patty candy!

Carmens Cupcake

Price: $4.95

This soap smells so real that I have to remind myself, "this is soap" Do not eat!

Popcorn !

Price: $4.95

Everyone loves popcorn, and we do too! This Soap smells just like buttered popcorn. It is just amazing!

Bubble Gum Jo

Price: $4.95

This soap

really does make me want to wash my hands, and I take forever in the shower now!

Butterfly Kissed

Price: $4.95

My brother and I tried to imagine what their kisses smell like. Sweet we think, like Raspberry and flowers like Violet.


Grape Jelly

Price: $4.95

Carmen and I both Love this Soap.It smells sweet just like Grape Jelly.

Orange Creamsicle

Price: $4.95

My Mom said this one reminds her of the Orange floats from her childhood. Orange & Vanilla!!!


Jo-Cool

Price: $4.95

Holy Smokes! I Love this. I wanted so bad to name this Clear-noggin! But because it's soooo Cool!

Carmens Cotton Candy

Price: $4.95

We don't have to wait all year for the fair to smell Cotton Candy cause we have the fragrance in a soap!

Fruity Loopie

Price: $4.95

Holy smokes! You will never believe that we have a soap that smells just like the Fruit loops cereal!

Jo-Jo's Jelly Donut

Price: $4.95

This makes my mouth water, it really does. Don't bite into it, remember it's soap!

Green Jolly Rancher type

Price: $4.95

It's nice to have a soap that's like a candy! This smells just like a Green Jolly Rancher.

Poppy's Garden

Price: $4.95

Poppy has got to have the best green thumb going! This soap smells just like his vegetable garden.

Ballerina Slippers

Price: $4.95

Sweet Sweet and Sweet! I love this one! It's all kinds of Cherries blasted into a soap!


Blueberry Muffins

Price: $4.95

Calling all Blueberry Lovers! Imagine a Blueberry Muffin without the calories!

Cherri GodMother

Price: $4.95

Sugar and berries, bubblegum & cherries. This is perfect for my sweet tooth and I bet you'll love it too.!

Carmen's Roll-On's

Price: $5.99

Our Roll-on's are made with the same great oils as our Mom's, Coconut oil and Vitamin E ! Having my own roll-on makes me feel sooo cool!


Kids Bubble Baths

Price: $7.99

Our Mom loves the glycerin and chamomile in this and we can understand why. Our skin really feels sooo soft after we're done!

Whispering Angel

Price: $4.95

Our Whispering Angel Soap has "a whisper" of sweetness to it. The scent is nice and light.

Page 1 of 1: